Sign-Up for High Speed Internet Over 4G LTE: Choose Better Internet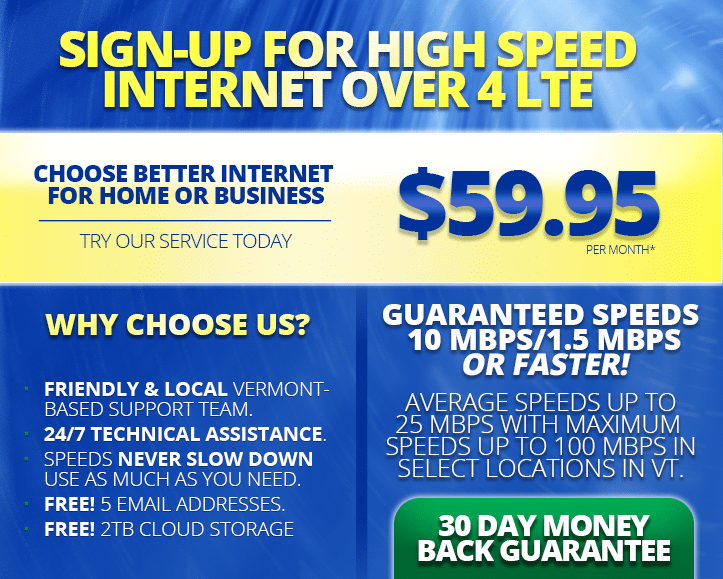 Choose better internet for home or business — choose VTel Wireless. We've been connecting Vermonters since 1890. Try our service today, $59.95/mo. per month*. 30 day money back guarantee!
Why Choose Us?
Friendly & local Vermont-based support team.
24/7 technical assistance.
Speeds never slow down, us as much as you need.
FREE! 5 e-mail addresses.
FREE! 2 TB cloud storage.
High Speed Service: Guaranteed!
Guaranteed speeds of 10 Mbps/1.5 Mbps or faster. 
Average speeds up to 25 Mbps with maximum speeds up to 100 Mbps in select locations in VT. 
Not sure if your address is eligible? Click the button below to check! Address not listed in our system? Please contact us.
* Our $59.95/mo. offer requires a new 24-month contract. An exterior antenna is required to start new service, which is an additional fee. Early termination fees and restrictions apply.



Disclaimer

: High speed internet service speeds will vary from location to location. Not all locations will qualify. All new pre-qualified customer sign-ups are guaranteed at least 10 Mbps download and 1.5 Mbps at time of installation. Most locations average 25 Mbps download. Some locations may receive up to 100 Mbps. Data plan and equipment pricing varies based on the technology available at your service location and may vary. Additional terms and conditions apply, please contact us for details.