We're faster than DSL and can deliver high speed internet to even the most rural Vermont addresses. Try us today...
Sign-up today and receive a very limited time offer — 100 GB of data for just $49.95/mo. for the first 12 months. By selecting this package, you'll never hit a data cap where you slow down — speeds stay fast. Lock your rate in today and start streaming TV, music and game. Enjoy a 30-day no risk trial, with a speed guarantee of 10 Mbps or higher, with speeds up to 100 Mbps!*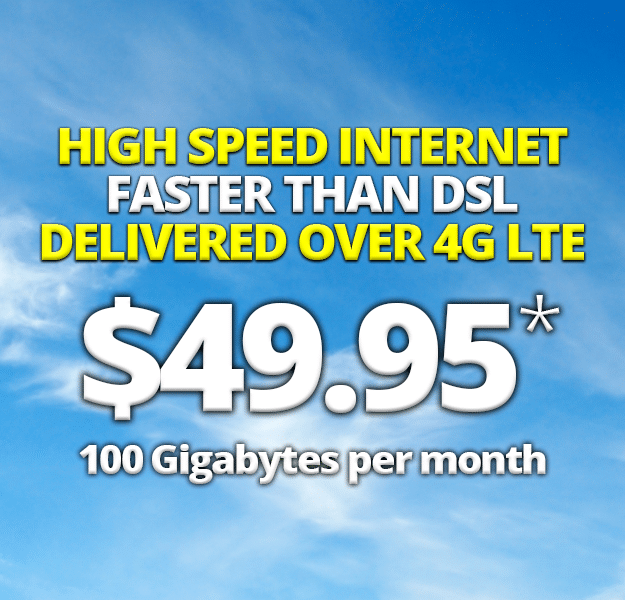 Not sure if your address is eligible? Click the button below to check!
* Includes 100 GB of data per month, which is enough for about 50 Standard-Definition movies, plus $10 per additional 50 GB. Outdoor antenna does not include a Wi-Fi router, but these can be purchased anywhere, including from us for $75. Early termination fees apply. Prices do not include applicable state, local and other fees. Limits exist on all unlimited services. Use of service assumes acceptance of terms of service found on our website at www.VTelWireless.com. Not all recipients will be eligible for service. Services and prices subject to change. VTel Wireless reserves the right to terminate new sign-ups for this and other promotions at any time. Price for free indoor modem is $49.95/mo. for first 12 consecutive months, then price continues at $59.95/mo. Price for outdoor antenna is $49.95/mo. + $19.95/mo. for 12 consecutive months, then continues at $59.95/mo. + $19.95/mo. Guaranteed speed at installation is 10 Mbps download and 1 Mbps upload, with most locations receiving well above this minimum standard. Some locations can reach speeds of 100 Mbps download, please call for availability. Minimum service speed and/or packages may vary depending on your location. Promotional pricing not available in all areas. Offer may not be combined with any other promotional offer.